You probably already know that mastering Facebook marketing is a "must do" for any business or brand that hopes to be successful.
According to Facebook, 2.4 Billion people are signed up to the app, that is HUGE majority of the population. So, chances are there's a number of those people who are interested in what you and you business have to say. Two-thirds of Facebook users admitted to visiting a local business' Facebook page at least once a week. (This could be YOUR business)
Your potential customers are already looking for businesses similar to yours on Facebook. Therefore, we believe a clear, focused Facebook marketing strategy is key to finding and keeping customers.
So here are our tips and tricks to keeping your business up to date with Facebook:
2. Brand continuity – make sure you have the same styling, images, logos across your platforms and that their size and resolutions are correct.
3. Posting:
Types of Facebook posts:
It's important to really think about what kind of content to post for Facebook Marketing. Here's a breakdown of some of the different post types you can use to engage with your followers. For inspo we've included some powerful Facebook marketing examples from successful brands.
Facebook text post (a.k.a. status post)
This is the most basic type of Facebook post. It is literally nothing but next: No photos, no videos — not even a link.
A text-only post can't direct people to your website or drive conversions, but it can be used to spark engagement on your Page. Asking a question can be a great way to get people involved, like Kylie Jenner did in this post. Even better, it brought in loads of customer feedback that Kylie can now use to craft YouTube content that she knows will resonate with fans. Asking your fans/customers what they want can be a great way to figure out what to post.
Facebook photo post
Like a text post, a photo post is designed to spark engagement. In general, photo posts see higher engagement than text posts.
Photo posts are a great way to show off your products, especially if they have high visual appeal, or they're something people need to see in use to fully appreciate.
Facebook Video post
A short video post can have strong visual appeal.
Since videos start to play automatically in the News Feed, even a clip that's only a few seconds long can be a great way to catch someone's eye.
This McDonald's ad for their new product combines bright colours, humour, and makes you crave their new product.

Facebook Live
Facebook Live is a broadcasted live-stream video on Facebook. It can be a great way to give followers a behind-the-scenes look at your company, your product, or the personalities behind your brand in real time with no editing. It's a great way to build creditability and engagement with followers and personify your brand.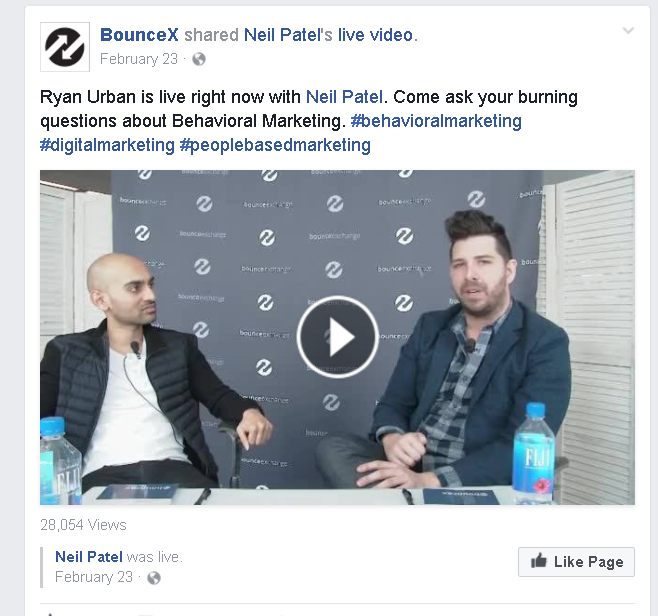 Facebook Stories
Facebook Stories are photos or short video posts that appear in vertical format and disappear after 24 hours. They live at the top of the News Feed. Photos appear for five seconds, and videos can be up to 20 seconds long.
Hopefully this will give you some tips and tricks how to make the most of Facebook. If you need assistance in your Facebook marketing, or you're looking to get that extra mileage out of your posts, get in contact with our team today!